There is a saying that good attackers win games. But great defenders win championships. The Premier League, never renowned for its rock-solid showings at the back, has nevertheless always had some high-profile defenders. The 2019/20 season was no exception, presenting a mixture of established centre-backs and some lesser known names ready to break through onto the biggest stage.
The following analysis focuses on the first choice centre-backs of all 20 Premier League clubs. All central defenders included in the data have featured at least 15 times in the Premier League last season. The centre-backs were evaluated based on two main performance categories: key defensive metrics and passing metrics.
All central defenders included in the data have featured at least 15 times in the Premier League last season.
Duels, reading of the game and defensive intelligence – who excelled and who did not?
Defensive duels (aerial + ground) is a performance indicator that assesses how commanding and physical a centre-back is. In this instance, we look at the relationship between ground and aerial duels won per game. A defensive duel can be regarded as a challenge imposed on the opposing player in order to win the ball back, either on the ground or in the air.
In the graph below, we can see Virgil van Dijk dominating in both aspects. The Liverpool defender won 70% of ground and an astonishing 76% of aerial duels per game last season. His closest rival is Tottenham's Jan Vertonghen, who won 70% of both ground and aerial duels per game.
The remaining centre-backs did not show the same consistency for both metrics, excelling at either one or the other. Kurt Zouma (74%), Harry Maguire (71%), Willy Boly (75%), James Tarkowski (73%) and Jan Bednarek (73%) all showed their aerial supremacy winning the highest percentage of aerial battles. Andreas Christensen (70%), Mason Holgate (69%) and Nathan Ake (69%) were among the best in winning the ball back on the ground, despite their shortcomings in the air.
David Luiz, Toby Alderweireld, Davinson Sanchez and Federico Fernandez are all on the low end of the graph for both metrics, indicating their poor ability to deal with opposing attackers in duels.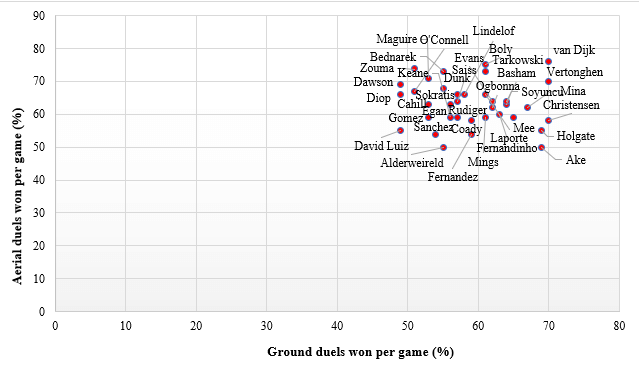 Another combination of metrics delves into the aspect of physicality. It can be seen straight away that Wolverhampton's centre-back Boly is a big outlier. On average, he won 1.82 tackles per game last season being a clear leader in this category. This could be an indication that the Wolves centre-back is a more proactive and aggressive defender. However, he got dribbled past fairly often, which might imply his lack of pace and poor positional awareness.
Rudiger, Vertonghen, Tarkowski, Holgate and Soyuncu are the ones who seem the most balanced, being aggressive enough, but at the same time, possessing enough pace and taking up good positions.
In contrast, van Dijk, Zouma, Lindelof and Tyrone Mings neither won many tackles nor got overrun by opponents.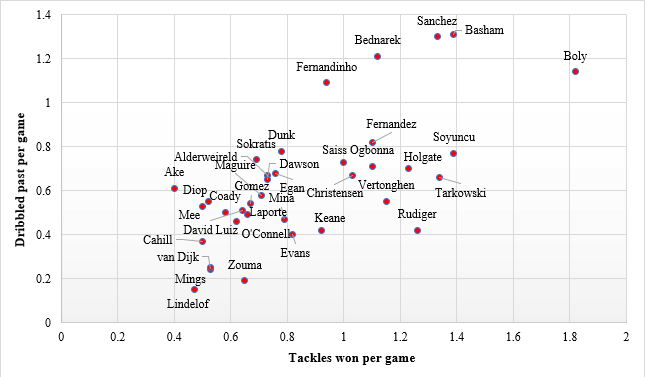 Physicality is one of the most crucial attributes for a centre-back; however, this goes hand in hand with the ability to read a game. The following graph displays the relationship between interceptions (stealing the ball) and blocks made (blocked shots + passes).
The optimal performers for both metrics were Boly, Tarkowski, Lewis Dunk, Roman Saiss, John Egan and Jan Bednarek. They had the highest average values for both interceptions and blocks per game, denoting their ability to read the game well when needed.
In contrast, Aymeric Laporte, van Dijk and Conor Coady made the least number of interceptions and blocks. In the case of Laporte and van Dijk, Man City and Liverpool are the dominant teams in pretty much every game, therefore, they have to do less defending in general when compared to other teams.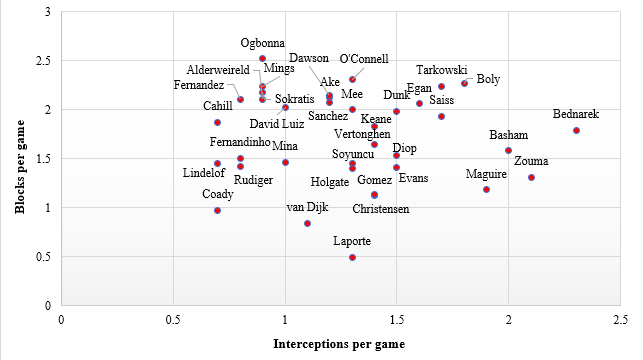 Another way to assess a centre-back's defensive intelligence is by looking at the number of fouls they make per game, combined with successful pressures. Boly, Zouma, Tarkowski, Dawson and Saiss made, on average, the most fouls of all centre-backs in the Premier League last season. It does not necessarily mean that they are bad central defenders; it can indicate their aggressive style of defending or their tactical intelligence to know when to step out to make a foul and prevent the opposition from progressing the ball further.
On the other hand, a low number of fouls committed and above average successful pressures ratio is a strong indication of game intelligence. In this sense, a centre-back knows when and how to apply pressure on the opponent in an attempt to regain the ball cleanly. Ake, Vertonghen, van Dijk, Coady and Dunk impressed the most in this aspect throughout the season, committing the least number of fouls and applying a good number of successful pressures (average baseline).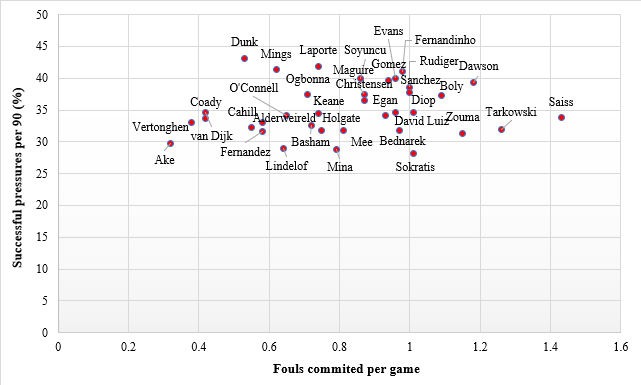 The best ball-playing centre-backs in the league
A modern centre-back is required to be as good on the ball as he should be without it. It can even be argued that, for some teams, the former is more important.
The two graphs below look into combinations of passing types and the distance they travel. The clear standouts are the centre-backs of Manchester City, Liverpool and Chelsea. No surprise there, as all three teams averaged the most ball-possession in the league last season. Also worth a mention, outside the top three teams, would be Brighton's Lewis Dunk, Leicester's centre-back pair in Caglar Soyuncu and Jonny Evans and Wolves' duo of Romain Saiss and Conor Coady.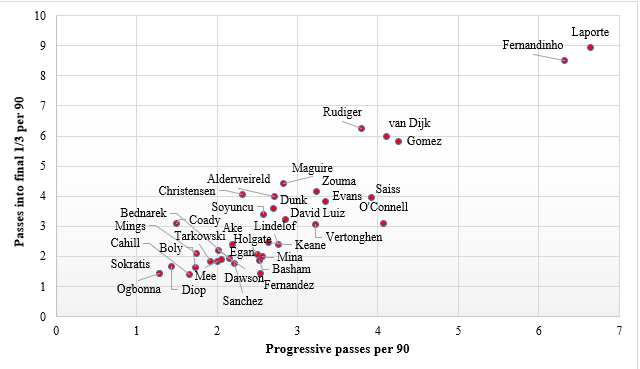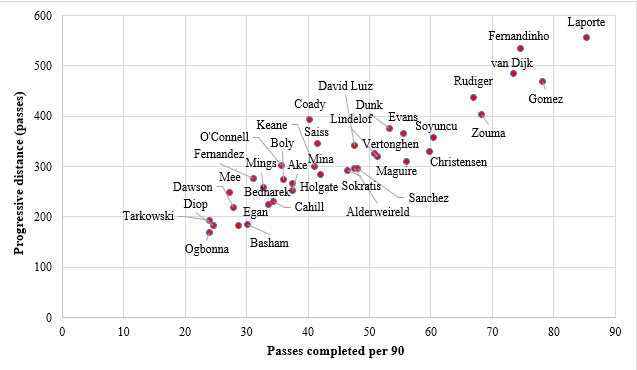 Shortlist
The centre-backs who impressed the most according to data.
Van Dijk (Liverpool); Vertonghen (Tottenham); Boly (Wolves); Tarkowski (Burnley); Zouma (Chelsea); Rudiger (Chelsea); Dunk (Brighton); Soyuncu (Leicester)
As English Giants Step Up Chase, Wolves Look To Cash In Big On Raul Jimenez
Manchester City Replace Leroy Sane With Valencia Wonderkid Ferran Torres
United Overtakes City In The Battle Of Manchester Over Aston Villa's Jack Grealish
EPL's Most Lethal Finishers: Stats Suggest 18-YO Mason Greenwood Is Second Only To Sergio Aguero
Alaba's Tactical Tweak To Bremen's Pizarro Effect — What We Learnt From Bundesliga Season 2019-20
Nathan Ake's Aerial Vulnerability May Prove The Stumbling Block In Manchester City Move
How Jadon Sancho Influenced Jude Bellingham's Move To Borussia Dortmund
Déjà vu 2019 For Leeds United But Marcelo Bielsa's Positivity Is The Difference
John Stones One Injury Away From Man City Exit After Guardiola's Subtle Ultimatum
Cavani, David Silva, Gotze and Co. ⁠— Top Ten Free Agents Of Summer 2020