Manchester City have reportedly been in contact with Bournemouth over the potential transfer of Nathan Ake, estimated at a £35 million bargain. The left-sided centre-back is one of the most wanted names on Pep Guardiola's wish list, as he strives to solve City's defensive woes.
The Premier League champions of the past two seasons have often struggled defensively this campaign. Guardiola's men have lost nine matches in the Premier League this season, more than lower-placed Manchester United and Wolverhampton. To make matters worse, City are joint-second with Southampton for the most individual mistakes leading to an opponent's shot – 18 in total.
These statistics are a clear indication that Guardiola must strengthen his defence this summer if the six-time English champions want to challenge Liverpool again next season. John Stones and Nicolas Otamendi have both been linked with a move away from the club, departures that would leave at Guardiola's disposal only Aymeric Laporte, Fernandinho, and the 19-year-old Spanish talent Eric Garcia.
The 25-year-old Dutch defender was on the bench during what turned out to be Bournemouth's last game in the Premier League after five years in the top flight. The Cherries have been relegated despite their 3-1 victory against Everton, a result that makes Ake's departure even more likely. The former Chelsea defender will certainly be willing to prove he is worth if he gets one more chance at the top club, with the North West as a likely destination.
Would Nathan Ake be a good fit for Manchester City?
There are two sides to Ake's game, complicating things for City .
The 25-year-old Bournemouth centre-back's playing attributes are common to all Dutch defenders. he is incredibly good on the ball, comfortable in possession under pressure and an astute passer with both feet: characteristics likely to make Ake appeal to City, as ball-playing abilities are one of the most, if not the most important requirement for Guardiola's centre-backs. This season, the Dutch centre-back averaged 42.6 passes per game with an 88% success rate.
Additionally, the Bournemouth man is a left-footed defender, an asset that would provide the perfect balance for Guardiola. Laporte has been one of the first names on the team sheet for the past two and a half seasons, but is City's only left-footed centre-back. Consequently, when Laporte was unavailable, City usually struggled to find the right balance with another right-footed centre-back on the left side. Ake's arrival would provide cover for the Frenchman and would be a handy asset against pacey counterattacking teams.
Speaking of pace, Ake is very quick for a centre-back, which would be highly useful when City defend in a high-line and teams try to punish them by playing long balls into channels for pacey forwards.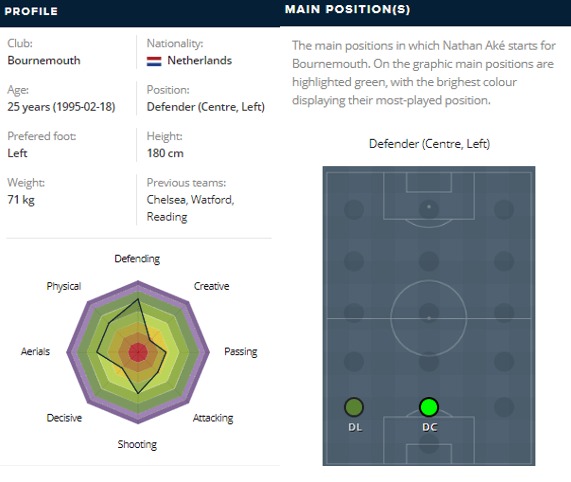 On a flip side, even though Ake is strongly built and does not lack physicality, his lack of height might be an issue. The Dutchman is 5-11, which would make him City's shortest centre-back. he has a relatively poor record in the air. On average, he has won only 2.2 aerial duels (a 48.8% success ratio) per game this season, placing him as low as 57th among all other defenders who have played more than 1,000 minutes in the Premier League this season.
Apart from the top six sides in the Premier League, the majority of the teams that City face tend to play loads of long passes after being pressed high up the pitch. It means that Ake would be involved in many aerial battles and could leave the rest of the back four in trouble if such duels are lost.
Despite his shortcomings, Ake seems to be less prone to lapses of concentration and unforced individual errors – a glaring issue for both Stones and Otamendi. With homegrown status on his side, the Dutchman would be a solid addition to Manchester City, even if he does not resolve all of their defensive problems.
Déjà vu 2019 For Leeds United But Marcelo Bielsa's Positivity Is The Difference
John Stones One Injury Away From Man City Exit After Guardiola's Subtle Ultimatum
Cavani, David Silva, Gotze and Co. ⁠— Top Ten Free Agents Of Summer 2020
Why Jurgen Klopp Is Eyeing Thiago Alcantara As Liverpool's New Midfield Talisman
How Fluid De Bruyne & Co. Scarred Celebration Day For Liverpool (Spesh Jürgen Klopp)
Coman A Better Dribbler, Gnabry A Better Scorer — At Bayern Munich, Leroy Sane Has His Work Cut Out
Premier League 2019/20 Playbook Decoded: From Champions Liverpool To Doomed Norwich