Manchester City have completed the signing of a highly rated Spanish winger from Valencia. The 20- year-old has put his signature on a five-year contract in a deal worth up to €23 million plus add-ons. Ferran Torres is regarded as one of Spain's most promising young talents with Valencia intending to tie him up with a €100 million release clause before the Spaniard refused to sign a contract extension.
The Valencia academy graduate has already made his name in Spanish and European football, despite his young age. Torres has made over 100 appearances in three seasons at Valencia making his debut as a 17-year-old in 2017. After playing a less significant part in the 2017/18 La Liga campaign, the Spaniard gradually grew into his role in the 2018/19 season, making 24 appearances, which led to him becoming a full first-team regular in the last season, during which he started 34 matches.
Torres scored a total of nine goals and made six assists in all competitions this season. Additionally, he created on average 2.2 shot and 0.32 goal actions per game. Dribbling is one of the key attributes of Torres, with the Spaniard attempting, on average, 3.76 dribbles per game, with a 59% success rate.
The explosive winger is a real threat in the attacking third, having been involved in 43% of Valencia's attacks that ended up in a shot, and 53% that resulted in a goal. Manchester City's fluid player rotations and passing moves in the final third mean that Torres will be even more involved in that regard.
The 20-year-old winger is an absolute steal and a fabulous addition to Manchester City's attack, in relation to the money paid. After Leroy Sane joined Bayern Munich in a deal worth two times less Sane's actual price – City felt robbed. However, the signing of Torres has been the Manchester club's payback time, with City paying only one-third of what the Spaniard is actually worth.
Player profile
When the news about Leroy Sane's departure emerged, the questions were posed as to whether there might be a suitable replacement for the German winger. Sane's playing profile is unique compared to others in the same position. Therefore, the task of finding a Sane clone seemed daunting at first. Nevertheless, after examining Torres' playing style, quite a few similarities can be found between the Spaniard and German wingers.
The Spanish winger possesses a very similar level of explosiveness to Sane, which allows him to accelerate past players. Acceleration and a sudden burst of pace from stationary positions enable Torres to dribble through defenders in an unpredictable manner. Sane used to provide that element of unpredictability when glancing through the opposition players with his long legs.
This season, City were often missing something in games against packed defences when Sane was not playing. Torres will be able to provide that missing element of unpredictability with the likes of Raheem Sterling, Riyad Mahrez and Bernardo Silva often being less adventurous on the ball and sticking to the system.
One of the biggest of Ferran Torres' advantages over Sane is his two-footed ability on the ball. Even though the Spaniard's preferred position is on the right flank, he is more than comfortable to cut inside onto his left foot as well. One of the main weaknesses in Sane's game was an overuse of his left foot, which limited choices in the final phase. Torres can go inside and outside in any direction, massively broadening the attacking options in dangerous areas close to the goal.
Another standout trait of Torres' playing profile is his playmaking ability. The Spaniard can find a teammate with a through ball or other types of intricate passes. This playing attribute has been reflected in the statistics with Torres making 2.5 key passes and creating at least a single chance per game.
Where will Torres play at Manchester City?
Being a versatile two-footed winger, Torres can play on either left or right flank. If played on the right, his preferred position, the Spaniard could act as a more direct winger on the outside, playing low hard crosses into the box, or cutting back passes for midfielders arriving into the box. It means that both Bernardo and Mahrez could face some serious competition because of Torres' different skill-set compared to those two.
If played on the left, Torres would be cutting inside onto his right foot more often than not, but at the same time would not be limited to this one action. Torres' only and most fierce competition would come from Sterling. The Englishman has established himself on the left flank and made it his own place this season with 27 appearances under his belt.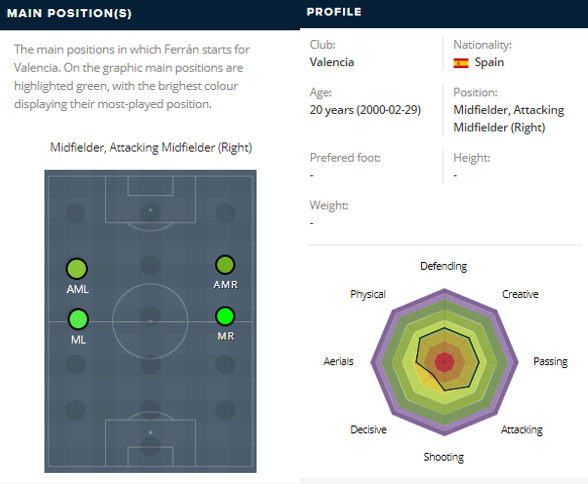 However, Sterling has never been, and still is not the most comfortable when using his left foot, and quite often has been a one-trick pony, cutting inside onto his right. This is where Torres could have an edge on Sterling, with the Spaniard technically more astute when using his left foot. It means he could drift inside and then out again, making life incredibly difficult for the opposing defenders.
David Silva was the last Manchester City signing from Valencia who proved to be one of the signings of the decade. The City manager Pep Guardiola will be hoping that Ferran Torres can leave the same mark in club's history.
Nathan Ake's Aerial Vulnerability May Prove The Stumbling Block In Manchester City Move
Best Free Transfers Of Summer 2020 — Done Deals And The Almost Confirmed Ones
How Jadon Sancho Influenced Jude Bellingham's Move To Borussia Dortmund
Explained: How Much Should Manchester City Pay Napoli For Kalidou Koulibaly
Leicester City vs Manchester United — Neither Rodgers Nor Solskjaer Can Afford To Regret
Mourinho May Lose Harry Kane After Yet Another Trophyless Campaign For Tottenham