Bundeliga runners-up Borussia Dortmund have ramped up the pursuit of young English talent, signing Jude Bellingham of Birmingham City for an initial fee of £25 million, officially making the English youngster the most expensive 17-year-old in history.
Last Thursday, Bellingham flew to Germany to complete his medical assessment before signing for the eight-time German champions. Manchester United were also heavily linked with the 17-year-old English midfielder, but, as it turned out, Dortmund were more convincing in their negotiations and landed the Birmingham City talent.
Bellingham's debut game against Portsmouth in the League Cup made him the youngest player to ever wear the Birmingham City shirt, and unsurprisingly, the England U-17 midfielder has continued to impress and develop into one of the most exciting prospects in European football.
He has made 40 appearances in the Championship this season, 31 of which came from the start. Additionally, the newest Dortmund signing has contributed four goals and two assists this campaign with Birmingham City, who only secured their place in the Championship on the last day of the season.
Bellingham has spoken positively about his time at Birmingham.
"I cannot thank Birmingham enough for what they have done for me, not just this past year but since the age of seven. Of course I wish everyone associated with the club nothing but the best. Once a blue always a blue."

Bellingham on his time at Birmingham City
But he cannot wait to put on the famous black and yellow shirt.
"However, I am incredibly excited to have joined one of Europe's biggest clubs. The direction they are heading in and how much they help to improve young players made it an easy decision for myself and my family. I cannot wait to perform in front of all the fans when they are back inside one of the most beautiful stadiums in the world."

The midfielder is looking forward to his new challenge at Dortmund
Jude Bellingham Player Profile
The most expensive 17-year-old in history has been hyped up, but what are the defining characteristics that make him stand out?
In a nutshell, Bellingham is a versatile midfielder who is very effective at linking offensive tasks with defensive duties and can play pretty much everywhere across the midfield line.
Defensively, the Englishman is good at snuffing out danger and intercepting the ball when needed. During the 2019/20 season, he averaged 3.2 interceptions per game, which is more than a solid number for the youngster. Adding to that, Bellingham reads the game well and due to his speed and agility can close down the opponent very quickly by swiftly putting him under pressure. Subsequently, he is a decent tackler averaging 2.9 tackles per game (66% successful), whilst also recovering the ball in defensive and offensive half (6.0 recoveries PG).
Offensively, Bellingham can drive with the ball from midfield, making progressive runs in two ways: in offensive transitions after winning the ball back, or in positional play after finding the right moment to accelerate and carry the ball forwards with power and pace. As a result, he is integral to connecting defence with the attack.
Bellingham's ability to progress possession from defence to offence is enhanced by his dribbling skills. The England U-17 midfielder is capable of beating players one-on-one in tight midfield third areas before progressing with the ball further up or passing it around. This season, he averaged 3.1 dribbles per game with a 60% success ratio.
However, at the age of 17, you would expect that not all parts of his game are yet fully developed and polished. Bellingham is not the greatest passer of the ball and usually lacks creativity with his passing as well as the technique to execute certain passes. On average, he performed 27 passes per game in the Championship this season with a success rate of 75%. Bellingham's limited passing range is one of the reasons he is not someone who could play a deep-lying playmaker role and dictate the play. Despite that, his dominant playing attributes outweigh the negatives and make him the perfect fit for a team that suits his playing profile.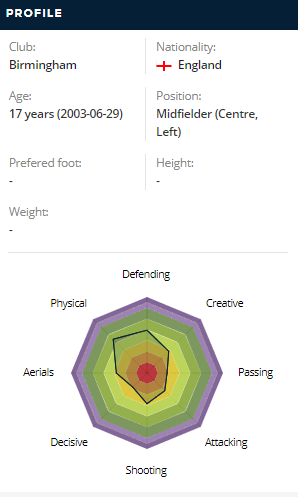 How he fits in at Dortmund?
Borussia Dortmund have always been renowned for their attacking talent and dynamic and energetic style of play. However, like any team that relishes attack, they tend to be a little bit vulnerable on the other end at times. Dortmund's preferred formation this season has been either 4-2-3-1 or 3-4-2-1. Consequently, both tactical set-ups rely on a midfield duo to cover a lot of ground in central areas. This is where Bellingham's tenacious and energetic style of play could prove to be an invaluable asset for Dortmund.
At Dortmund, Bellingham could excel in a box-to-box role with another defensive/central midfielder alongside him occupying a deeper role. His defensive qualities combined with physical attributes would allow him to cover more ground without getting exposed. On top of that, Bellingham's ability to recover the ball and then make bursting runs from deep would make Lucien Favre's side even more dangerous in counterattacks. His tenacity and energy also suit Dortmund's high-pressing style and combined with the Englishman's versatility could enable frequent participation in positional rotations.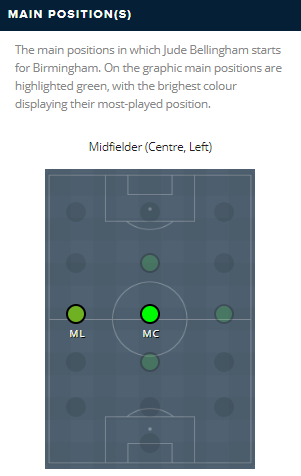 Overall, Bellingham is not a complete player just yet. At the age of 17, he may not expect to start every game and should be gradually eased into the team. Jadon Sancho made 12 appearances in his first Bundesliga season and has gradually earned his place in the starting XI. Bellingham is most likely to follow Sancho's path, and become an integral part of this Dortmund team in the years to come.
Déjà vu 2019 For Leeds United But Marcelo Bielsa's Positivity Is The Difference
John Stones One Injury Away From Man City Exit After Guardiola's Subtle Ultimatum
Cavani, David Silva, Gotze and Co. ⁠— Top Ten Free Agents Of Summer 2020
Why Jurgen Klopp Is Eyeing Thiago Alcantara As Liverpool's New Midfield Talisman
How Fluid De Bruyne & Co. Scarred Celebration Day For Liverpool (Spesh Jürgen Klopp)
Coman A Better Dribbler, Gnabry A Better Scorer — At Bayern Munich, Leroy Sane Has His Work Cut Out
Premier League 2019/20 Playbook Decoded: From Champions Liverpool To Doomed Norwich
Ryan Bertrand Is A Southampton Full Back With Ambition