Kai Havertz's versatility compelled Lampard to make him the most expensive German and bring him to Stamford Bridge. But the marquee signing is far from settled.
Frank Lampard topped up his squad rebuild with Leverkusen's Kai Havertz, landing his primary target. Along with other big name new signings like Timo Werner, Hakim Ziyech, Thiago Silva and Ben Chilwell, the six-time Premier League champions have more than compensated for the departures of Willian and Pedro. Nevertheless, Lampard's side remains unsettled.
Havertz coming to Chelsea made him the most expensive German footballer of all time, surpassing the £53 million transfer of Timo Werner. The 21-year-old was in fine form last season, scoring 18 goals and assisting nine times in all competitions. He also managed to create 20 big chances for his teammates, together with 4.29 shot and 0.51 goal creating actions per game. Additionally, the German was involved in 55% of plays that ended up in a shot; and 54% of moves resulting in a goal. The German will certainly bring much more sting into the attack and efficiency in from of the net too.
The Kai Havertz report
Havertz is an incredibly versatile footballer who has the skills to play in three or four different positions. Last season, he played 25 matches as an attacking midfielder or 'no.10'; 12 as a right-winger, and eight matches as a central striker. Havertz's diverse skillset and elegant body composition are the primary reasons he is capable of playing in various positions.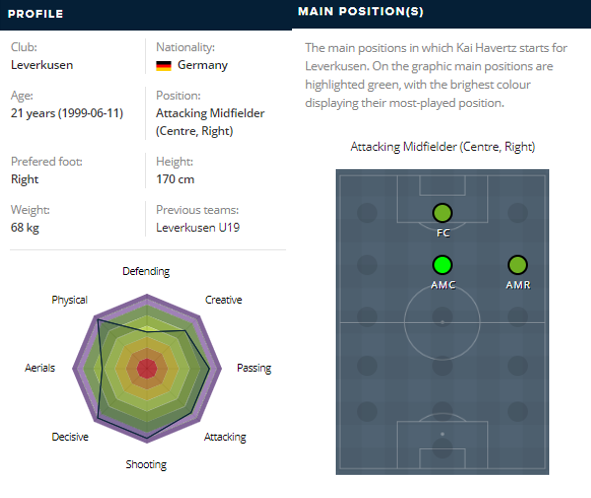 The former German internationals, and Leverkusen's coaching staff, are the big admirers of Havertz. They believe the hype surrounding the 21-year-old German talent is fairly justified. Former German international Dietmar Hamman has compared Kai Havertz with a young Michael Ballack. Hamman said, "He is just a brilliant player, he is so flexible, he is tall, he can hold the ball up. He is physical, technically he is very gifted. He is perfect."
But despite the record signing and showcase, Lampard has struggled to get Havertz adjusted in his setup at Chelsea right away. In the opening two fixtures of Premier League Season 2020-21, the star signing failed to make any noteworthy impact. However, it isn't Havertz struggling. Lampard explored different options for the German, moving him from midfield during the Bright & Hove Albion win to a false 9 in the loss against Liverpool. But with both culminating in underwhelming performances, the English legend is still to find Havertz's proper position in his 4-3-3.
Watch: How Kai Havertz's lit up the German Bundesliga