Manchester City's defensive wobbles were a glaring issue this season that seemingly left Pep Guardiola with no other choice but to dive into the transfer market once again. The Catalan has been in desperate need for a new centre-back. Kalidou Koulibaly is his primary target.
As reports suggest, the last year's Premier League champions Man City are in hot pursuit of Napoli's Kalidou Koulibaly, ready to splash £72 (€80) million for the highly-rated Senegalese defender. Kompany's departure has certainly had a negative effect on City's defensive performances this season, with the likes of John Stones and Nicolas Otamendi unable to provide solid cover. To make matters worse, Aymeric Laporte damaged his right knee against Brighton back in August and was ruled out for six months. 
Manchester City's attempt to replace Kompany back in the summer was unsuccessful with the Citizens refusing to meet Leicester's asking price of £80 million for the defender. As it turned out, Maguire joined City's fierce rivals Manchester United instead. This time, it seems that both Pep Guardiola and City do not want to make the same mistake again, being ready to meet Napoli's asking price at any cost.
The Senegalese defensive stalwart Koulibaly has been linked with a move away from Naples for a long time. But the transfer fee proposed by Aurelio De Laurentis tends to put off majority of the clubs' interest.
Would Koulibaly fix Man City's defensive problems?
On the eye, the Napoli player is considered to be a complete defender, as often described by football experts – strong, agile, good on the ball, intelligent and a great passer. Those are the attributes often associated with Kalidou Koulibaly, much like Virgil van Dyk, Man city's nemesis Liverpool's most valuable asset. However, if we delve deeper into data analysis, not necessarily everything suggests that is the case.
The first graph looks into the challenges (defensive and attacking) per 90 minutes. The Napoli defender makes on average 12 challenges per game with the success rate of 68%. It is slightly lower than the overall average of selected players which is 69%. Nevertheless, Koulibaly has a better ratio of challenges won than his likely future teammates of Laporte and Otamendi (both 66% of challenges won). Only Stones has a higher success percentage (72%), although he only makes 7 challenges per game on average.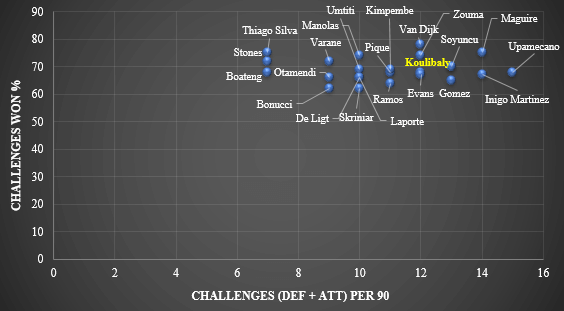 Koulibaly's imposing physical presence certainly makes him stand out among other central defenders. However, his aerial game is not as impressive as it perhaps could be. On average, he is involved in 4 aerial duels per game with a success rate of 65%. A fairly low number of aerial duels might be explained for the fact that Napoli record the highest average ball-possession in Serie A (57.4%) meaning they do not have to defend that much. Nevertheless, the winning percentage can be a bit of a concern with Koulibaly winning on average only 65% of air challenges (70.1% overall average). In this instance, he is behind all three, Otamendi (68%), Laporte (68%), and Stones (78%).
Another important game attribute for any centre-back is tackling. It is a good indication of ability to defend one-versus-one if the tackles attempted are successful. In terms of this performance metric, Koulibaly is one of the leaders. He averages 3.1 tackles per game winning on average 73% of tackles attempted. It can mean one of two things: either Koulibaly's defending style is more proactive meaning that he engages the opponent on the ball prior to the attacking move, or he tends to be more reactive and responds quicker than most after the opponent has executed an action.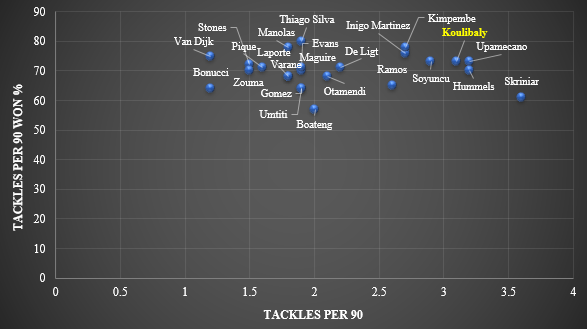 Tackling can be further investigated in terms of attempting to stop an opponent dribbling at you. This metric, in particular, proves that Koulibaly is more of a proactive defender tackling on average 1.09 dribblers per game. The attempts to stop an opposing player dribbling at him seem fairly successful with Koulibaly being dribbled past by an opponent 0.57 times per game which is nearly identical to the overall average (0.56).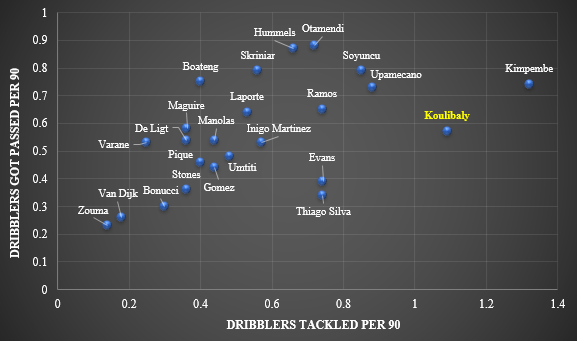 Lastly, a large number of goals conceded by Manchester City usually come from individual errors. Therefore, the defender who is intelligent and reads the game well is incredibly important for them. In this instance, we look at blocks and interceptions made per 90 minutes. Koulibaly is one of the standout performers here making on average 1.67 blocks and 6 interceptions per game. It implies that the Senegalese defender is usually aware of the opponent's next move and steps in when needed.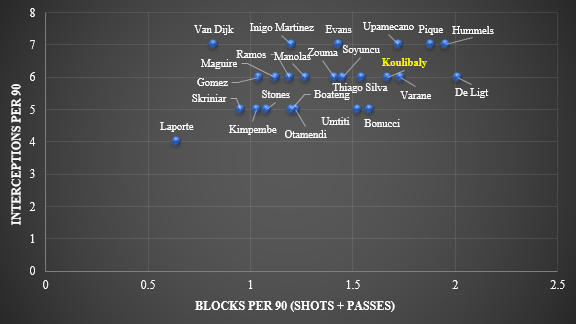 All things considered, Kalidou Koulibaly is more than a solid defender who would undeniably improve Man City's defence. The only question marks remain over Napoli's asking price and possibly Koulibaly's age. At the age of 29, he would be expected to slot into a team immediately and perform at the highest level from day one.
Déjà vu 2019 For Leeds United But Marcelo Bielsa's Positivity Is The Difference
John Stones One Injury Away From Man City Exit After Guardiola's Subtle Ultimatum
Cavani, David Silva, Gotze and Co. ⁠— Top Ten Free Agents Of Summer 2020
Why Jurgen Klopp Is Eyeing Thiago Alcantara As Liverpool's New Midfield Talisman
How Fluid De Bruyne & Co. Scarred Celebration Day For Liverpool (Spesh Jürgen Klopp)
Coman A Better Dribbler, Gnabry A Better Scorer — At Bayern Munich, Leroy Sane Has His Work Cut Out
Premier League 2019/20 Playbook Decoded: From Champions Liverpool To Doomed Norwich
Ryan Bertrand Is A Southampton Full Back With Ambition