Jadon Sancho is one of the hottest transfer targets this summer, heavily linked with a move to Manchester United. In the summer of 2017, the 20-year-old decided to part ways with United's bitter rivals City after refusing to sign a new long-term deal. The English wunderkind decided to go abroad instead and joined the German giants Borussia Dortmund. Since then, Sancho has lit up the football scene, scoring 34 goals and assisting 43 times in 99 matches for the black and yellows.
Dortmund are believed to have set the price tag at €120 million, potentially making Sancho the most expensive British player in history. The Bundesliga runners-up don't necessarily need to sell their superstar, making it a cat and mouse game between the two clubs. United will not want to pay the asking price, since they see it as 'unrealistic in the current economic situation,' but Dortmund will be reluctant to sell for less than what they see as Sancho's value.
But is Jadon Sancho really worth that terrific amount of money, and would he be a massive upgrade on what United have at the moment? In order to get a better understanding, we delve into some data.
Watch: Jadon Sancho – All Goals and Assists
Sancho versus Man United's forwards
One of the key criteria that sets apart world-class wingers from good wingers is their goal-scoring ability. Sancho definitely belongs to the former category when we look at the graph displayed below. In a recently ended season, the Dortmund winger recorded a non-penalty expected goals (xG) value of 11.5, which was 7.5 goals fewer than the actual number of goals he scored in all competitions (19). It denotes Sancho's tremendous finishing ability, having scored almost double the number of goals he was expected to.
In contrast, Marcus Rashford is as good, while Anthony Martial and Mason Greenwood are even better in this regard. It signals serious competition for places if Sancho is to be signed by United, but at the same time, it can only be seen as a positive to have that number of quality forwards in a team.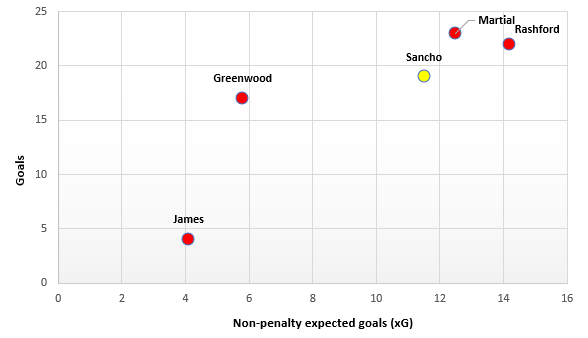 Sancho's clinical finishing shows up even better in the following metric graph. The English winger has the best shots per goal ratio (3.7) of all players included in the analysis. It means that, on average, Sancho needs 3.7 shots to score a goal, which is better than any United player. Adding to that, his non-penalty expected goals per shot is also one of the best among analysed players. On average, Sancho's shot has a 15% probability to result in a goal which is only worse than Martial's (18%).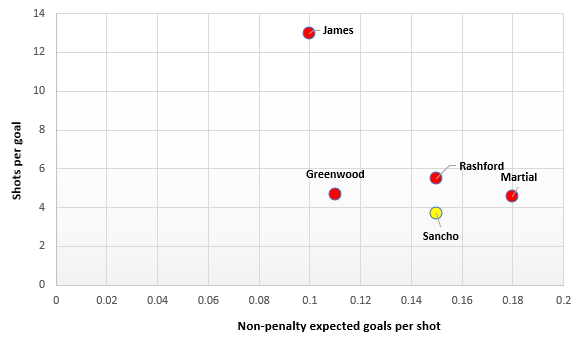 Wingers can be described as 'the middle ground' for goal scoring and assisting. Again, a world-class winger has to be able to do both equally well. As can be seen in the graph below, Sancho is miles ahead of all four of United's forwards. Last season, the English wunderkind made 18 assists and created 22 big chances in all club competitions. In comparison, all four United forwards averaged 6.8 assists and 7.8 big chances created.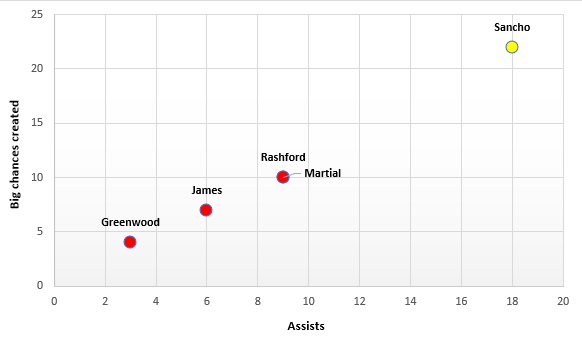 Sancho's creative ability is further showcased when specifically creating shooting and goal actions. The Englishman is ahead of all Man United forwards in terms of shot-creating actions per 90 minutes, averaging 4.8 in all competitions last season. Together with Martial, Sancho also created the most goal actions per 90 minutes – 0.8.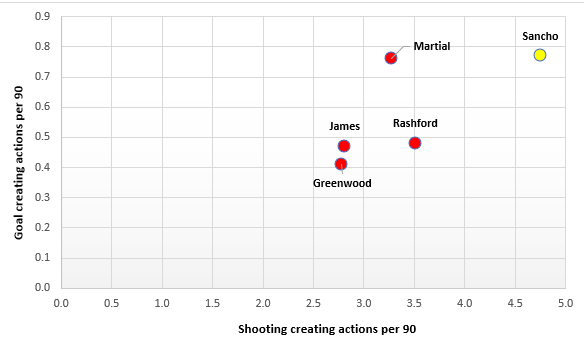 Sancho's ability to influence the game and be a threat in the attacking phases are further outlined in the graph below. The Dortmund winger averaged 2.4 key passes per 90 minutes last season, which combined with an average of 2.3 passes into the opposition's penalty area placed him ahead of United players in terms of impact made.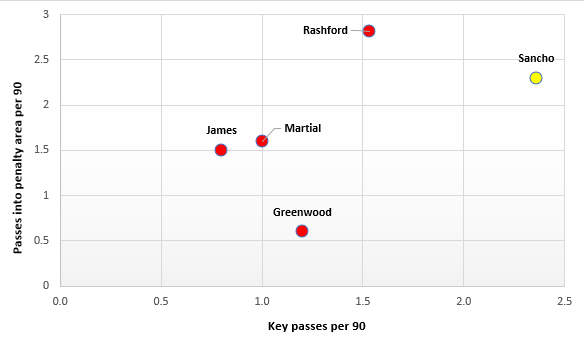 Finally, a world-class winger is always renowned for his dribbling ability, and Sancho does not disappoint in this metric either. He averaged the most dribbles per game out of all analysed players (6.4), with 61.7% being successful. In this regard, Sancho was only behind Martial, who successfully completed 67.1% of his dribbles.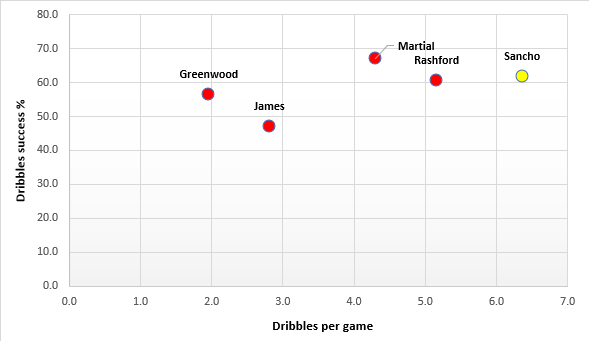 Final verdict
Despite the fact that Sancho's transfer fee evaluation seems a little bit inflated, the data proves that the Dortmund wunderkind is truly one of a kind. Showcasing incredible performance results across all metrics, the 20-year-old winger will no doubt become the most expensive Englishman ever. It is only a matter of time until Sancho leaves Dortmund – it will simply be a matter of whether it is this transfer window or the next.
Before You Go
Quiz: Which Dortmund player are you?
Ahead Of Manchester City's Champions League QF Clash, David Silva Departs For Italy's Lazio
Van Dijk, Laporte Or Maguire — Who Boasts The Best Centre-Back Stats Of EPL 2019/20?
As English Giants Step Up Chase, Wolves Look To Cash In Big On Raul Jimenez
Manchester City Replace Leroy Sane With Valencia Wonderkid Ferran Torres
United Overtakes City In The Battle Of Manchester Over Aston Villa's Jack Grealish
EPL's Most Lethal Finishers: Stats Suggest 18-YO Mason Greenwood Is Second Only To Sergio Aguero
Alaba's Tactical Tweak To Bremen's Pizarro Effect — What We Learnt From Bundesliga Season 2019-20
Nathan Ake's Aerial Vulnerability May Prove The Stumbling Block In Manchester City Move
How Jadon Sancho Influenced Jude Bellingham's Move To Borussia Dortmund
Déjà vu 2019 For Leeds United But Marcelo Bielsa's Positivity Is The Difference
John Stones One Injury Away From Man City Exit After Guardiola's Subtle Ultimatum