In April 2016, Joe Hart made his way out of the tunnel ready to take on Real Madrid in the Champions League semi-final second leg at the Santiago Bernabeu. Four years later, having been released by Burnley, the former England number-one is now without a club for the first time in a professional career spanning seventeen years.
Once regarded as one of the best shot-stoppers around, the 33-year-old has experienced a downfall in his career that no one, perhaps least of all he, could ever have envisioned.
Hart departed Shrewsbury for Manchester City in the summer of 2006, signing for just under £1 million. At the time, confronting various financial issues, the Citizens were far from the footballing power they are now. In his first few seasons, Hart struggled to cement his place in City's starting line-up and was lent to several lower league clubs.
After a couple of loan spells, the England goalkeeper finally proved his worth and stayed in Manchester for the 2007/08 and 2008/09 seasons. He played a total of 65 matches across the two seasons in all competitions before being loaned out to Birmingham City for the 2009/10 campaign. Hart experienced a phenomenal season at St Andrew's, which culminated in his being nominated for the PFA Young Player of the Year award and named in the PFA Team of the Year.
The following summer, Hart returned to Manchester when his loan spell with Birmingham came to an end. He continued to impress during the pre-season and earned the trust of Roberto Mancini, who made Hart his first-choice goalkeeper, sending Shay Given to the bench. Hart's impressive form continued into the following two seasons, which saw him win the Premier League Golden Glove award twice and be named in the PFA Team of the Year for the 2011/12 season.
Manchester City's dramatic title win against QPR put the icing on the cake of what had been three phenomenal seasons for the England number one at that time.
England v Italy quarterfinal – a pivotal moment in Hart's career?
Hart arrived at the EURO 2012 full of confidence and swagger ready to establish his name on the international scene. The former Manchester City keeper has always had an element of cockiness and arrogance, which, as it turned out later, perhaps played a big part in his decline.
England topped their EURO 2012 group with seven points and awaited Italy in the quarterfinals. An uneventful game ended 0-0 and both teams headed to the penalty shoot-out. Everybody knew England's woeful record at penalty shoot-outs in major tournaments but somehow, this time, it felt a little bit different. Hart's confidence and assurance in goal gave England belief that the curse could be lifted – right until the moment Andrea Pirlo stepped up to take a penalty kick.
The Italian midfield maestro performed what is now one of the most iconic kicks in the history of penalty shoot-outs. England were 2-1 ahead and on course to win their first penalty shoot-out at a major tournament since 1996, after Riccardo Montolivo fluffed his lines. But then, it was the turn of the Italian Maestro.
Pirlo placed the ball on the spot while Hart was exaggeratedly bouncing across his penalty line. The England goalkeeper dived to his right expecting a hard low shot from the Italian, but Pirlo had other thoughts on his mind. The Maestro saw Hart's exaggerated movements and decided to scoop the ball down the middle of the goal leaving him embarrassed and on his backside. Hart's humiliation was followed by two penalty misses from Ashley Young and Ashley Cole, which meant England, unsurprisingly, crashed out of the major tournament in their traditional fashion.
Hart's boisterous personality is perhaps a key reason why this one penalty kick seemed to take such a massive toll on his self-confidence. The Englishman has always been a loud and commanding character, the one who wanted to be seen. The cheeky execution of shots in football can be regarded as one of the ways to humiliate your opponent. This is exactly what Pirlo did in this instance. A loud and brash persona was brought down to earth by a cheeky Panenka chip. This was the beginning of Hart's downfall.
Up and down: how confidence caused Hart's performances to fluctuate
The start of the 2012/13 season did not portend anything extraordinarily bad for Hart with an outstanding performance against Borussia Dortmund in the Champions League one of the highlights of the goalkeeper's career. However, deeper into that season, Hart's performances deteriorated with the loss in the FA Cup final against Wigan Athletic.
The following season, Hart's true decline began. He was benched for seven straight Premier League matches after an unconvincing string of performances, taking his place between the sticks with Costel Pantilimon. Later, Hart returned to the starting eleven, but he was nowhere near his old best, and plenty of question marks hung over his performances.
Hart has always relied on his confidence and this was reaffirmed the following two seasons. He won another Premier League Golden Glove award in 2014/15 and recorded one of the best individual performances by a goalkeeper against Barcelona at Camp Nou in 2015.
The England goalkeeper's confidence was high and he sustained it throughout the 2015/16 campaign, helping Manchester City to reach their first ever Champions League semi-final. Although City were ultimately knocked out by Real Madrid, it looked like Hart had finally regained the belief in himself and was heading to the Euro 2016 in high spirits.
Nonetheless, crucial mistakes against Wales and Iceland brought Hart back to where he was after the Euro 2012 campaign – full of doubts and questioning his ability. England crashed out of the tournament in humiliating fashion once again and Hart was one of the main culprits.
The arrival of Pep Guardiola meant that Hart would be under severe pressure, with the Catalan placing an enormous emphasis on a goalkeeper's ability with the ball. How much Hart's poor performances at the Euros impacted Guardiola's decision to get rid of him remain unknown, but it would not be a big surprise if the Manchester City manager's mind was made up even before the tournament started.
Hart was the first player out of the door when Pep arrived, with replaced by Claudio Bravo. Hart spent the whole 2016/17 season on loan at Torino, managing only five clean sheets.
He returned to England the following year and was loaned out again, this time to West Ham. It looked like the second loan move didn't work out either after Hart conceded ten goals in his first three games. It proved to be the case later in the season with Hart being dropped to the bench for 15 straight matches.
It seems that these loan moves crushed Hart's confidence once and for all. An ensuing transfer to Burnley was another painful experience for the goalkeeper who made only 24 appearances in two seasons for the Clarets.
Once considered England's best goalkeeper, Hart has suffered a remarkable decline in his career and will be looking to join a club on a free. One thing is for sure: there will not be any chest pumps or loud swearing to fire up his teammates before games anymore. The damage has already been done, and it is unlikely that the former England number one will ever recover.
Here's what the stats tell us about the decline
Hart has never been, and is still not a bad goalkeeper; but perhaps his strengths were overly praised at times.
On a few occasions, Hart would fail to make routine saves, but would escape criticism by making a few world-class ones. However, his stymied confidence exposed weaknesses that were masked on other occasions by his commanding and arrogant personality.
In the graph displayed below, we can see that Hart's shot-stopping ability got worse after the EURO 2016 and Pep's ultimatum. In six seasons prior to the European Championships in 2016, Hart conceded on average 0.9 goals per game from 3.3 opponent's shots on target. After some woeful performances in the tournament, his goals conceded per 90 ratio increased to 2.0 for the past three seasons combined. However, it came as a consequence of more opponents' shots hitting the target (5.1 on average per game). During his time at Manchester City, Hart was protected by solid defenders, which also explains the differences in numbers.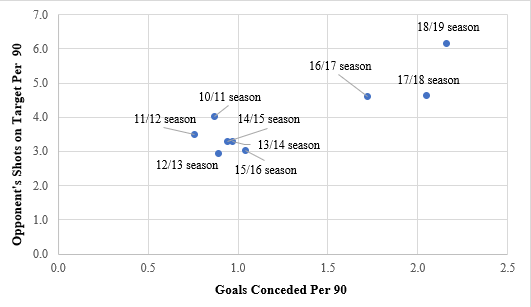 The next graph shows us Hart's shot-stopping ability in conjunction with the quality of the opponents' shots over the past four seasons. It can be noticed that Hart was at his worst at West Ham, saving only 61% of the shots that on average had 9% scoring probability. Slightly surprisingly, his best season was in 2018/19, when he managed to stop, on average, 72% of opponents' shots, which had a 13% scoring probability.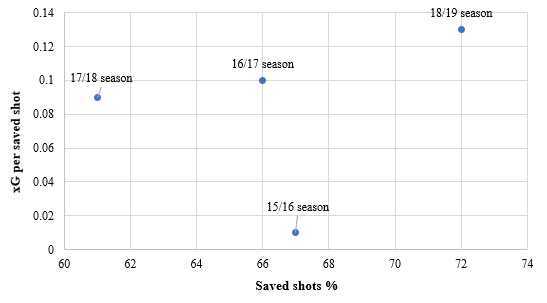 Finally, we can take a look at the saves per goal and saves per 90 metrics. The 2017/18 season seemed to be Hart's lowest point, with the goalkeeper managing only 1.5 saves until conceding a goal. In contrast, the 2018/19 season, spent at Burnley, was the best over the last five years. That season, Hart averaged 4.8 saves per game and 2.6 saves until he conceded a goal.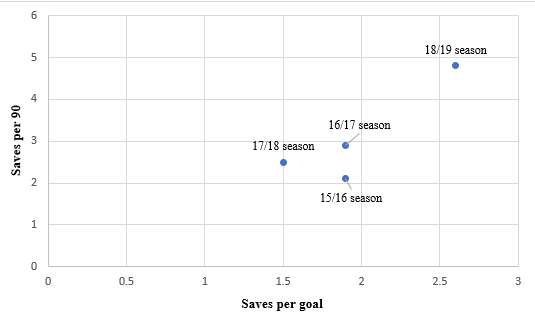 These numbers can look slightly contradictory given that, to the naked eye, Hart does not look anywhere near as assured as he once was. Although he will never regain the England number one shirt, Hart can still be a valuable asset to the majority of lower profile clubs.
Alaba's Tactical Tweak To Bremen's Pizarro Effect — What We Learnt From Bundesliga Season 2019-20
Nathan Ake's Aerial Vulnerability May Prove The Stumbling Block In Manchester City Move
Best Free Transfers Of Summer 2020 — Done Deals And The Almost Confirmed Ones
How Jadon Sancho Influenced Jude Bellingham's Move To Borussia Dortmund
Explained: How Much Should Manchester City Pay Napoli For Kalidou Koulibaly
Leicester City vs Manchester United — Neither Rodgers Nor Solskjaer Can Afford To Regret
Mourinho May Lose Harry Kane After Yet Another Trophyless Campaign For Tottenham
Liverpool's Points Record Hunt Ruined Despite Dominant Display Against Arsenal
The Most Unpredictable Champions League Of All Time? Here's What We Can Predict
A Breakdown Of Lionel Messi's 700 Goals For Club And Country