The arrival of one of Barca's greatest ever players as the new manager has not sparked too much enthusiasm in the eyes of Lionel Messi who has publicly declared that he does not see his future at Barcelona and intends to leave. This has rejuvenated Pep Guardiola's long chase to reunite with the Argentine magician. So if Messi to Man City does happen, here's the three ways in which the Blues may line up next season.
Messi's current deal with Barca expires next June and the six-time Baloon D'or winner is in no haste to extend his current contract.
Barcelona's humiliating 8-2 defeat at the hands of Bayern Munchen in the Champions League semi-final was the final nail in the coffin. Barca sacked Quique Setien in the following days replacing him with club legend Ronald Koeman. According to the reports, Lionel Messi has already had a meeting with new manager Koeman and allegedly made it clear that he has severe doubts about his future at Barcelona. The 33-year-old had been in similar situations before when Barca's early Champions League exits sparked debate over the Argentine's future, but this time it looks far more serious.
Exit thoughts have loomed large for Lionel Messi since Barcelona's 2015 CL Win
Since the Champions League triumph in 2015 under Luis Enrique, Barcelona have failed to reach the final in the last five attempts. In three of those occasions, the five-time Champions League winners failed to progress beyond the quarter-final stage. Barca's best shout was last year after a convincing 3-0 win in the semi-final first-leg against Liverpool. However, what followed, in the second-leg at Anfield, we already know and does not need further expansion.
Watch: Lionel Messi says Barca players are not good enough
The Catalan club's constant failings in the Champions League over the past five seasons could be seen as one of the key reasons the Argentine is reluctant to finish his career at Camp Nou. Adding to that, Barca's transfer politics in recent years have also been heavily criticized by the public, and Messi himself. The club has spent over €1 billion since the 2014/15 season and has lost its aura of the La Masia academy.
With all that in mind, this seems like the perfect opportunity for some of the clubs to take the football genius away from Barcelona. The one club that in particular would be interested in Lionel Messi is Manchester City. Pep Guardiola's side has been long linked with signing the Argentine magician but more often than not those rumors were anecdotal.
As things stand, Messi is eager to leave but could it actually happen?
Lionel Messi at Manchester City – What would it look like?
The majority of the news stories surrounding Messi are about his potential transfer to another club. However, news on a potential tactical role Messi could be assigned to are lacking, which is at least as interesting as the transfer itself.
City usually line-up in a 4-3-3 formation with two inverted wingers on either side. Manchester City's formation is perfectly familiar to Lionel Messi as Barca's preferred formation over the years has also always been 4-3-3. Messi played a total of 28 matches on the right-wing last season and would be extremely accustomed to that role.
Watch: Lionel Messi destroying English Clubs
Nevertheless, this is where the contradiction begins. Riyad Mahrez, Bernardo Silva and even Phil Foden at times occupy that same position on the right to play as inverted wingers subsequently cutting inside onto their left foot. The problem lies not in whether Messi is good enough to outplay the aforementioned three, the question is whether those three are good enough to start ahead of Messi.
The right side of the central midfield (RCM) could be another possible option for Messi at City. In recent years, Messi has been taking up the central midfield role more often, especially when playing for Argentina. His eye for a pass and ability to carry the ball from deep without being dispossessed allow Messi to excel in that role.
Despite that, this is where the second contradiction begins. Kevin De Bruyne is the man who operates on the right side of central midfield and is virtually irreplaceable in that position. The Belgian's curved crosses into the box with his right foot have become a trademark, and if Messi were to play there, the dynamics of City's attacking play would have to change completely.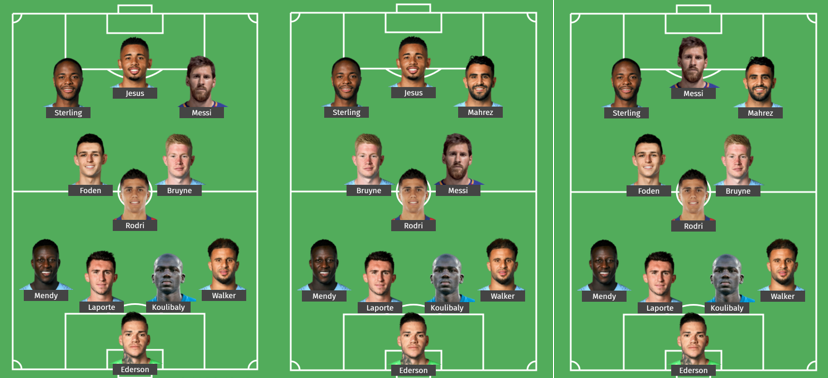 Finally, the 'false 9' role could be another possible option for Messi at City. It used to be the Argentine's main position during Barca's era under Guardiola. He is still utilized in that same role from time to time, having played nine times as a striker and five times as a second striker last season. With Sergio Aguero leaving after the 2020/21 season, Gabriel Jesus would be the only recognized striker at City. However, City's high-pressing game requires their strikers always be on a front foot and engage in a press. Messi has never been renowned for his off-the-ball qualities, and with Jesus being one of the best pressing strikers in the world, this could seem like a challenging prospect for the Argentine.
"Could he do it on a cold and rainy night in Stoke?" with a minor alteration to "Could he do it on a cold and rainy night in Burnley" is as close to becoming true as it has ever been. The answer is simple: Messi could definitely do it, but at whose expense?
Watch: Messi's best rainy night moments
Pros and cons of Messi joining City
Pros:
Marketing. Messi would double City's fan base overnight together with millions of shirt sales
Even at the age of 33, still possibly the best player on the planet right now
Can play in a variety of positions and because of Messi's X factor would create freedom for other City attackers
Clinical in front of goal. City create the most chances out of all teams in Europe but their finishing lets them down badly at times. Sterling, Gabriel Jesus, Mahrez and even Sergio Aguero have all had moments when they failed to find the back of the net from glorious positions
Cons:
The whole City squad would have to be accommodated around Messi. Even if City could get him on a free, amid no contract extension, you are not going to have one of the greatest players of all time sitting on the bench
Messi's arrival can distort a team's spirit. Some of City's attacking players might fall into the jealousy traps because all the attention would go to this one man
Sacrificing City's transfer model (young players with tremendous potential but not quite made superstars that cost 100 million) if Messi cannot be signed as a free transfer. We are talking about 100+ million for a 33-year-old after all
Massive wages
All things considered, this is Lionel Messi we are talking about after all, but would Manchester City make a massive mistake or would it be the best decision of the decade? The fact is it is now or never for Manchester City. There will not be a better opportunity to get potentially the Greatest Player of All Time.
Chelsea's Pursuit Drags On Amid John Stones' Reluctance To Leave Manchester City
Our Data Shows Dortmund's Exorbitant Asking Price Is Nowhere Near Jadon Sancho's Real Value
Ahead Of Manchester City's Champions League QF Clash, David Silva Departs For Italy's Lazio
Alisson & Ederson Overrated While Dubravka & Guaita Underrated — Our 2019-20 Premier League Goalkeepers Assessment
As English Giants Step Up Chase, Wolves Look To Cash In Big On Raul Jimenez
Manchester City Replace Leroy Sane With Valencia Wonderkid Ferran Torres
United Overtakes City In The Battle Of Manchester Over Aston Villa's Jack Grealish
EPL's Most Lethal Finishers: Stats Suggest 18-YO Mason Greenwood Is Second Only To Sergio Aguero
Alaba's Tactical Tweak To Bremen's Pizarro Effect — What We Learnt From Bundesliga Season 2019-20
Nathan Ake's Aerial Vulnerability May Prove The Stumbling Block In Manchester City Move
How Jadon Sancho Influenced Jude Bellingham's Move To Borussia Dortmund
Déjà vu 2019 For Leeds United But Marcelo Bielsa's Positivity Is The Difference