When it comes to meeting Queen Elizabeth II, there are certain dos and don'ts everyone must follow.
But sometimes it can get difficult to remember all the rules especially when you don't belong to the United Kingdom.
Let's have a look at 10 times Queen Elizabeth II was publicly disrespected in by celebrities and diplomats.
Meghan Markle Sat Crossed Legs At A Royal Function
Meghan Markle sat crossed legs at a Buckingham Palace reception back in 2018. What's wrong? Well, it is taken as a royal code of misconduct to sit crossed legs instead of opting for the 'Duchess slant'. Royal onlookers found this offensive and accused the Duchess of Sussex, Meghan, of publicly disrespecting the Queen.   
Donald Trump Broke Royal Protocol Not Once But Twice
It seems like there isn't a day that goes by when President Trump isn't making a headline or two. When President of the United States visited the UK in 2018, he committed several protocol gaffes. He kept Queen Elizabeth II waiting for 10 minutes for the scheduled tea time. As you know, you can never keep the Queen waiting.
---
---
Not only this, he went as far as walking ahead of the Queen. According to British critics, it is considered highly disrespectful to show your back to any member from the British Royal family. This makes US President Donald Trump a royal defaulter at disrespecting Queen Elizabeth II publicly.
A Restaurant Accused of Disrespecting Queen
Hakkasan is a Michelin-starred Cantonese restaurant in Mayfair and it stands on the same premises in which the Queen was born. But now you can spot smokers standing on the historic site
---
---
In fact, the restaurant went as far as to move their cigarette bin and space heater on the wrong side of the protective barrier.
---
---
Anna Wintour
Considered the Queen of fashion, Anna Wintour invited the Queen of England, Queen Elizabeth to a fashion show. For all of those who don't know who Anna Wintour is well, she is the editor-in-chief for Vogue.
And, if you've ever seen 'The Devil Wears Prada", Miranda Priestly's character was rumoured to be inspired by Anna Wintour. However, upon meeting the Queen, Anna didn't curtsy which isn't mandatory but is expected once you meet the Queen. Also, Anna did not take her sunglasses off during the fashion show which was not very well received by the Queen's admirers.
---
---
Lewis Hamilton scolded by Queen Elizabeth II For Table Manners
Lewis Hamilton was very lucky to be invited by the Queen for a Royal dinner at Buckingham Palace where he sat to the left of her. Unfortunately, Lewis was not aware that during the first course of the meal, the Queen talks to the person on her right.
And as for Hamilton, he was seated to her left. The F1 car racer initiated a conversation with her but was interrupted by the Queen shortly after for his abrupt table manners.
---
---
Robbie Williams Chews Gum At A Royal Wedding
There is a rule that you shouldn't chew gum in the presence of the Royal family or any family member. Which means you shouldn't chew gums at a Royal wedding either. But UK based singer, Robbie, was seen breaking etiquettes by chewing gum at Princess Eugenie's wedding. His act of chomping away was criticised by the British press.
---
---
Susan Sarandon
Hollywood superstar Susan Sarandon threw caution to the wind at a Royal Windsor Cup Polo match. Susan couldn't wait to meet the Queen and took it upon her to stroll right up to her and introduce herself.
---
---
According to the Royal etiquette guideline, people should wait to be formally announced by the Queen. That didn't stop tabloids from snapping photos and making headlines of the mishap. But we are sure Susan didn't bat an eye to her British critics.
Rihanna
If you're one of Rihanna's millions of followers, then you already know what we are talking about. Rihanna posted a few photos of the queen and said they were a little 'risque'.
These were photos of Queen Elizabeth's face photoshopped on Rihanna's body. Rihanna left her fans bemused with the Queen's photoshopped images. And, the Queen publicly disrespected.
The Obamas
Michelle Obama broke a major rule when she hugged the Queen. even though it was a side hug to pose before the camera, it still sparked major headlines.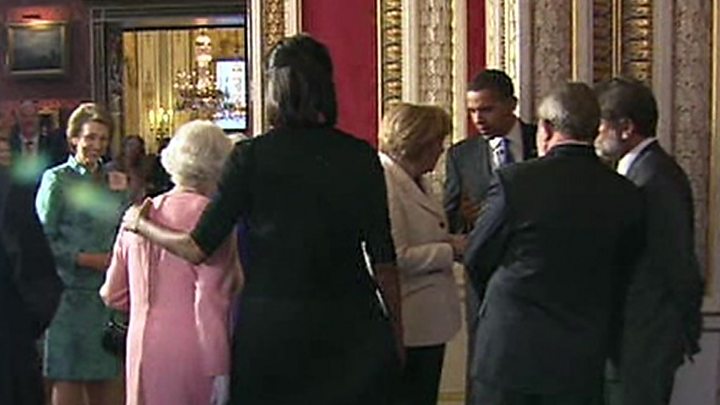 READ MORE:
What It Means When Queen Elizabeth II Does These Secret Hand Gestures