Stranger Things Season 4 teaser dropped online on Valentine's Day and Hopper is definitely alive.
Highlights —
Goodbye Hawkins; Hello! Kamchatka
Viral Fan-theory about Hopper stands corrected
Jim Hopper meets Jaqen H'ghar from Game of Thrones
Stranger Things & Marvel's Black Widow unite
Goodbye Hawkins; Hello! Kamchatka
The big question finally comes to an end with Stranger Things Season 4 teaser, i.e, Jim Hopper is not dead. And yes, we're not in Hawkins anymore. If you couldn't tell from the Russian hymn that was being sung in the background with all these Russian military guards, and then Hopper showing up, the place is obviously meant to be Kamchatka, Russia.
Viral Fan-theory about Hopper's Death stands corrected
In the Stranger Things Season 3 post-credit scene from Kamchatka, we saw that big long scene of the Russian military prison where we saw a prisoner being dragged out kicking and screaming down the pit, where the prisoner-in-charge fed him to the new white Demogorgon. But before that, they pass by a cell and pause for a hot minute saying not the American assuming it to be Hopper.
And the teaser video of Stranger Things Season 4 just confirms that it was him (Hopper) inside that prison.
RELATED:
Plot Leaked! Stranger Things Season 4 Will Turn Your World Upside Down And Solve Hopper's Mystery
But we still don't know how he wound up in that prison in Kamchatka. There are only two ways possible, one, either there is a missing time period between the blast and when the authorities made it down there (Upside Down portal) to inspect the facility and escaped with Hopper. Or, the second probability is that Hopper travelled through the upside-down gate before it was closed and landed in Russia.
But logic one suffices better about the fact that there probably some Russians still left that weren't killed and they took Hopper with them because he was responsible for all this so they wanted retribution.
Jim Hopper meets 'No One' aka Jaqen H'ghar from Game of Thrones
Stranger Things Season 4 teaser video also saw another familiar face you may have recognized (apart from Hopper's). The new guest star in the season four teaser footage, as they're panning before they reveal Hopper, is Jaqen H'ghar (Tom Wlaschiha) from Game of Thrones.
In fact, the actor just finished playing a villain in Jack Ryan Season 2. However, the footage implies he's going to be playing one of the Russian military bosses, in-charge of whatever this new project is going on during season four.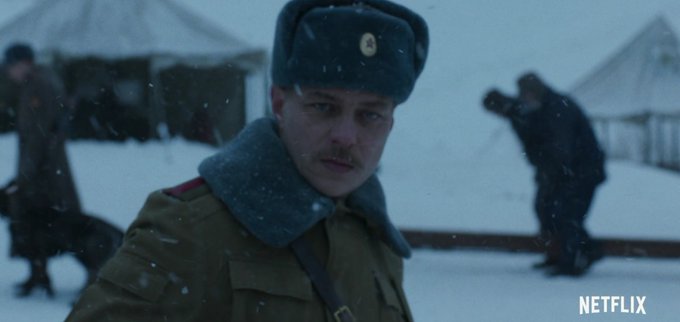 I am guessing he and Hopper will probably wind up having some kind of crazy Royal Rumble, rage-in-a-cage sort-of scene. Basically every fight metaphor you can think of.          
Stranger Things & Marvel's Black Widow unite with David Harbour Enroute Russia
Here's a funny story, David Harbour is in Marvel's Black Widow where he is playing a character called Alexi Shostakov aka Red Guardian, a Russian. It's a very funny coincidence that he is playing a character who's a Russian named Alexi. However, there's a very own version of Alexi (Alec Utgoff) that Stranger Things Season 3 boasts off, who himself is a Russian scientist.
Stranger Things Season 4 Inspired from Prison Break Movies
The Stranger Things writers posted this list of movies that inspired some of the episodes. 'I am fugitive from a Chain Gang', 'Papillon', 'The Great Escape', 'Stalag 17', 'The Shawshank Redemption' – are all films primarily prison-themed.
Leave us a comment if you agree and your thoughts on what do you think will be happening in Stranger Things Season 4.
---
---
Plot Leaked! Stranger Things Season 4 Will Turn Your World Upside Down And Solve Hopper's Mystery
Duffer Brothers Go The Marvel's Way To Release Stranger Things Season 4