Iron Man director Jon Favreau is also the director and the writer behind Disney's flagship show The Mandalorian.
Not only has Jon Favreau directed Iron Man, but he also plays Happy Hogan in the Marvel Studios' movie. Favreau's first choice for Iron Man has always been his buddy-for-ages Robert Downey Jr.
HIGHLIGHTS:
Robert might don the director's cap for Disney+ The Mandalorian?
Downey's Pick – A non-MCU Film
Episode 3 has an Iron Man hint
What MCU director Jon Favreau recommends Robert Downey Jr. should do post-Iron Man
With having done several films together, Favreau exactly knows what to take up next in his career. While Robert Downey Jr has played the comic character Iron Man for over a decade, Favreau thinks it would be criminal if Robert didn't step out of his territory for once.
Favreau recently spoke with The Hollywood Reporter and here's what the MCU director thinks Robert Downey Jr should take up post-Iron Man. Jon Favreau thinks Downey Jr. is a versatile man and it takes a man of his calibre to be a successful director.
Not only this, he has threatened his close friend Downey Jr that he would stop speaking to his friend if he didn't pick up directing. Did Favreau sheepishly hint at Robert's collaboration with The Mandalorian?
Dropping fans a major hint from this interview, could this mean Robert Downey Jr may actually go behind the camera for Favreau's The Mandalorian?
Downey's Pick – A Non-MCU Film
If Downey Jr helmed a non-MCU film, then Favreau's The Mandalorian is the best option available, for Downey to co-direct it with Favreau.
Having contributed personally into Robert Downey Jr's exponent career growth, and pulling off a multi-verse action film at such a large scale, Favreau certainly knows how to talk his way out.
The Mandalorian, the biggest Star Wars franchise
Jon Favreau is unarguably working on the biggest Star Wars franchise ever. He has a lot on his plate and with Robert Downey Jr hand into the project, The Mandalorian is sure to leave a mark in the audience's mind.
The two have forged a strong bond since the launch of Marvel's Iron Man in 2008.
The Mandalorian had an Iron Man reference we all missed
Starring Robert Downey Jr., Iron Man was Marvel Studios first foray into financing their movies adapted from their superheroes comic book. The origin story was a remarkable hit and has been the base of the MCU ever since.
Season 1 Episode 3 of The Mandalorian titled 'The Sin' had a hint of cool Iron Man moment. At the end of the episode, after Dyn comes and rescues Baby Yoda, he finds himself surrounded by the bounty hunters.
Just when he is about to give up, The Mandalorians, led by Paz arrives at his relief. He boards his jet and zooms off. Paz says his goodbye in his jet suit. The mechanism of the suit is similar to Iron Man's suit that enables him to fly.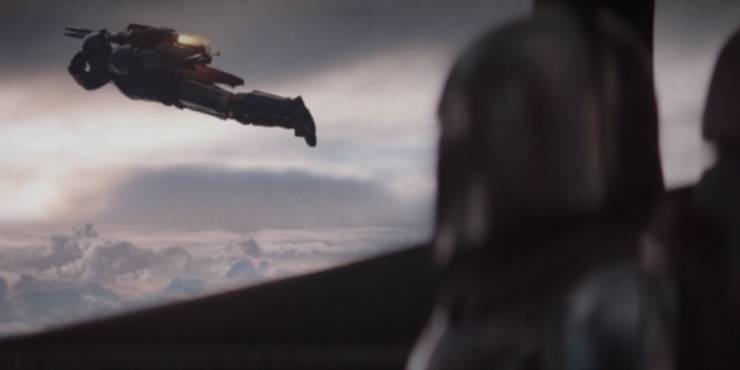 Favreau's tribute to Iron Man
Highlighting the fact that The Mandalorian is created by Jon Favreau, it could be a tribute to the Iron Man.
Aside from this, there was one more place that reminded the fans of Iron Man. It has to do with a weapon strapped onto Dyn's suit. It is fitted with a weapon called the Whistling Bird that is useful in hitting specific targets. The armour is exactly the one Iron Man brandished on his first mission to Gulmira.
The Real Reason Behind Why Priyanka Chopra's Quantico Was Cancelled Abruptly?
Here's A Reason To Believe The Hangover 4 Might Happen