Daybreak, Netflix's post-apocalyptic dramedy (drama+comedy) starring Matthew Broderick, will not be getting a second season and has been cancelled.
---
---
Reason Behind The Show's Cancellation
Streaming giant Netflix is not an ad-supported platform. It is believed so Netflix's Daybreak got cancelled as Netflix could not take a chance on the series as, at the crux of it, all boils down to the cost of the production versus the number of viewerships.
Overall, Netflix web series and shows which are headed to be renewed are usually selected within a month of the series or season premiere.
This show had carved its own cult, however, it failed to impress Netflix to add another season to the Daybreak series.
Daybreak executive producer and co-creator Aron Eli Coleite broke the news of Netflix's Daybreak getting cancelled on the micro-blogging site Twitter late on Monday night.
---
Apart from Coleite, Brad Peyton and Jeff Fierson were also the executive producers and co-creators of the Daybreak series on Netflix.
The news came nearly a month and a half since Daybreak's launch on October 24.
Eli tweeted "No one is as heartbroken as we are that we can't share more of this ride with you. But we are so grateful to have gotten to bring it so far."
(Read the full tweet here)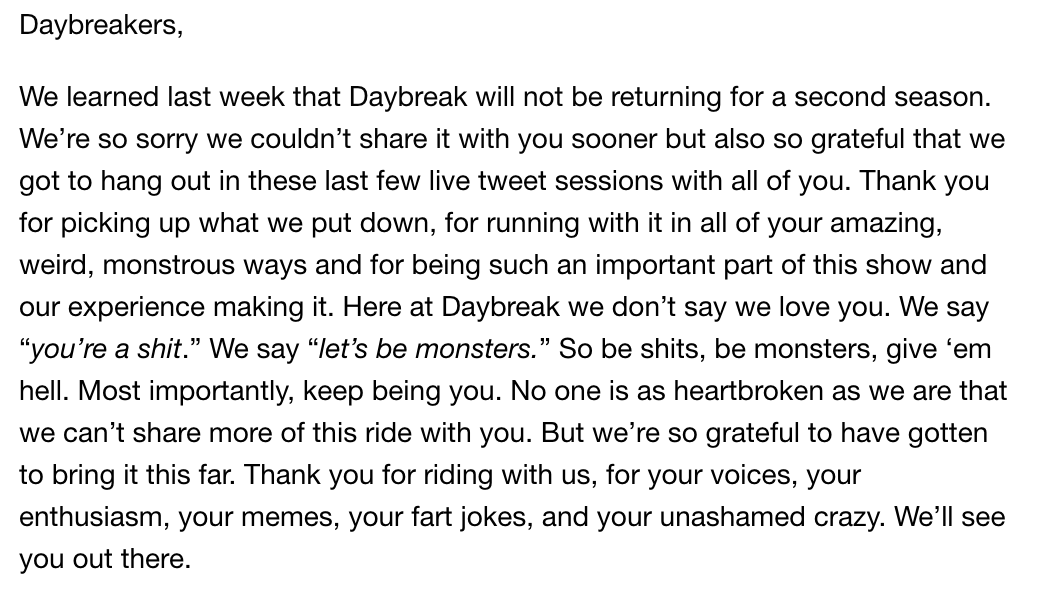 ---
---
[Spoiler] The Plot Of Daybreak
---
Launched on the Netflix subscription service on October 24, the Daybreak TV show is a "genre-bending series' that stars Jeanté Godlock.
Apart from him, the cast of Daybreak includes Colin Ford, Sophie Simnett, Alyvia Alyn Lind, Gregory Kasyan, Austin Crute, Matthew Broderick, Cody Kearsley, and Krysta Rodriguez (from Smash).
Based on the graphic novel by Brian Ralph, the series is about a 17-year-old high school teen Josh Wheeler (Supernatural's Colin Ford) who is looking for his missing girlfriend, Sam (Simnett), in a post-apocalyptic Glendale, California.
Josh is joined by a group of misfits that includes an arsonist 12-year-old Angelica (Revenge's Alyvia Alyn Lind) and Josh's former high school bully, Wesley (Atlanta's Austin Crute).
The group fights to stay alive, in the wake of a nuclear blast, amongst the horde of gangs of evil jocks and cheerleaders turned Amazon warriors, zombie-like creatures called Ghoulies, and everything else this plucky new world as to throw at them.
This eclectic group of survivors navigates their way into this strange and precarious world. It has been described as a coming-of-age drama and part Battle Royale.
---
Daybreak Fans Still Await Its Second Season
---
Fans are disappointed to the point where they are in complete disbelief that their favourite show is cancelled for season 2. A Twitter user says she had no doubts about season 2 coming as the story had the full potential to it.
Users on Twitter found Daybreak to be a different type of story and it is often difficult to find a big enough audience for that kind of extraordinary storyline.
---
---
---
Why Should You Wait For Season 4 Of The Runaways?
The Crown Season 4 in Jeopardy Courtesy The Queen