Nairobi is a fictional character in Netflix's criminal drama Money Heist. Born as Ágata Jiménez she is codenamed as Nairobi. Nairobi was shot dead in Season 3, however, she will be returning in Season 4 and is actually not dead!
Considering she is a very popular character on the show and it would be a great loss to the show if she actually turns to be dead in season 4.
The entire squad gets together to pull off the final robbery of stealing gold from the Bank of Spain in season 3 of Money Heist. Las Casa de Papel pursues the major characters as they rob gold before as they escape alive from the bank.
Season 3 is called La Casa de Papel in Spanish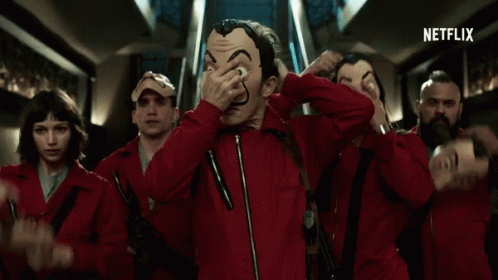 Nairobi Will Be Back In Season 4
Money Heist season four is in production and it is confirmed that Nairobi will be returning to the series.
Yes, the cat is out of the hat and Nairobi isn't actually dead. Last, in season 3, we saw that Nairobi was shot in the head by a sniper and laid unconscious in Helsinki's arm before breathing her last.
Helsinki and Nairobi are in a relationship
However, there is a twist in the tale. All of this is only a part of a much bigger master plan that the gang has come up with to fool the press, the cops and the world all at once to stay undercover.
What and how the makers of the show intent on unveiling the plot are still unknown. But one thing is known that the bullet escapes her as she is wearing a bulletproof jacket.
Season 3 of Money Heist in Recap
The season 3 is set in Madrid, Sapin where the team intercepts the Bank of Spain gaming to steal gold bars from the Bank's reserves. The immensely popular series on Netflix, Money Heist ended on a spine chilling note for Nairobi.
Reuniting after Rio (Miguel Herran) is captivated by the Panama authorities, El Professor (Álvaro Morte) reunites everyone to annihilate those who are chasing them.
Climaxing in a phenomenal finale, the heist comes close to the heels with Nairobi's life in the balance.
In season 3 episode 8 of Money Heist, one of the detainees is forced out to bring in a supposed bomb hidden in a teddy bear.
Nairobi learns that the teddy bear belongs to her 9-year-old son and registers he appears to be in a risk. In an empathetic scene, audiences learn that Nairobi's son was snatched away from her hands.
She then gets a phone call from the director of the Police operation, Alicia Sierra (Najwa Nimri), who informs that she has Nairobi's son with her.
To prove she is not lying, she calls Nairobi close to the window to show her. The emotional upsurge turns to Alicia's advantage and as a consequence, Nairobi is shot in the head by a sniper as she falls for the ruse. However, her last words are, "I saw my son Helsi."
However, it is not revealed in the end scene whether or not Nairobi is actually dead.
Álex Pina is the creator of the show
---
---
Spoiler Alert: Jake and Amy To Turn Foes Once Again in Season 7 of Brooklyn Nine-Nine
Netflix's The Witcher Is An Ancient Prequel of Game of Thrones: The Stark Connection