Strange fan-theory on Stranger Things Season 4 release date is astonishingly believable.
Season 3 of Netflix's supernatural thriller-series released all the episodes at once on July 4, 2019. Meanwhile, the streaming giant has announced Season 4 of Stranger Things on September 30, 2019.
HIGHLIGHTS:
Stranger Things Season 4 Release Date Theory
Season 3's massive success
Season 4 Christmas connection
With the announcement of Season 4 barely two months from the release of Season 3, Stranger Things fans can't wait but speculate when the next season will launch.
Stranger Things is most definitely one of the highest watched series on Netflix with a massive fan-base. Since its launch in July 2015, the show has been popularly loved and admired by a lot of fans across the world.
The horror-cum-supernatural series centres around five kids who investigate strange things occurring in the fictional town of Hawkins.
Then, there's a girl with psychokinetic abilities who teams up with the gang in search of a missing boy. Things turn eerie and spooky when they begin to unravel horrific things taking place past their journey.
Season 3's colossal success has fans waiting for Season 4
Season 3 was a massive hit which was well-appreciated by the fans and it's the critics alike. Due to this very reason, fans can't wait but expect a sooner-than-expected release date for Stranger Things Season 4.
But when can we expect Season 4? Well, here's a fan-theory on Reddit that has us into buying his compelling logic on the expected release date for Stranger Things Season 4.
Save the date – it's Spring of 2020
A Reddit user based the fan –theory on the drawings found in Will's room in a video posted on Youtube. The drawing shows a shackled person in a prisoner's uniform, which the fan most likely thinks, could be Jim Hopper.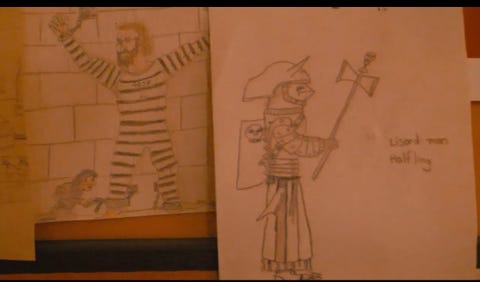 Creepy? Wait to hear this.
In fact, it's the number 403 tagged on to his uniform that left an impression on the fan's mind. In addition, the user points out that the number 403 is the exact same number as the hospital room where Nancy had visited Mrs Driscoll.
Here's the exact date
In connection to the speculations of season 4 getting its release in spring 2020, the user further predicts that season 4 will be released on the third date of the fourth month of 2020. Which means Stranger Things Season 4 will most likely be released on 3rd of April 2020.
Another theory to back this logic is that season 1 was released in the fall, season 2 came in the winters, Season 3 in the summer, and season 4? Leaving us with the only option, i.e. Spring.
The Christmas connection
The same set-tour video on Youtube left a hint of Christmas decorations which fans point out may be the opening for season 4. A Reddit user speculates that Stranger Things Season 4 will begin with a flashback to Christmas.
That actually sounds like a perfect rat-trap for fans to believe as the kids are living in different cities now. Finding Christmas as the perfect time of the year to re-unite might be the perfect way to start off their new journey.
Why Young And Old Audiences Are Hooked To Stranger Things
5 Reasons Why Otis From Sex Education Is Bisexual