Tony Stark aka Iron Man has always been the main man for The Big Bang Theory group. Rajesh, Sheldon, Howard and Leonard have always been super impressed by his powers, brain and of course the technology he used.
Over the years we have seen the BBT guys interacting with the likes of tech entrepreneur Elon Musk, Stephen Hawking the fame theoretical scientist, physicist, and cosmologist, also legendary comic book creator Stan Lee among others.
Watch: Sheldon Meets Stephen Hawking | The Big Bang Theory
Now, what will happen if Sheldon Cooper meets Iron Man? Being the smartest out of the lot if he meets this superhero in real life, let's see how things might span out (other than a restraining order).
When Sheldon Cooper meets Iron Man!
Imagine the two tech freaks and genius together in the living room in California, Pasadena. One is an ardent comic geek while the other is the genius, billionaire, philanthropist, playboy of the comic book world! Sounds crazy enough, eh?
What Transpires Between The Geeks
Now you must be only imaging the two discussing gadgets, military weapons and advancement in technology. However, that is definitely not the case.
First, this time it won't be Penny who will be using the best friend duo Leonard and Sheldon's wifi. Most definitely, Tony Stark has hacked it just because he can. After a round of 3D chess and maybe discussing which flags were used during which wars, Sheldon will invite Stark to join hands with him to save the world from an inter- galactic-dimension-war.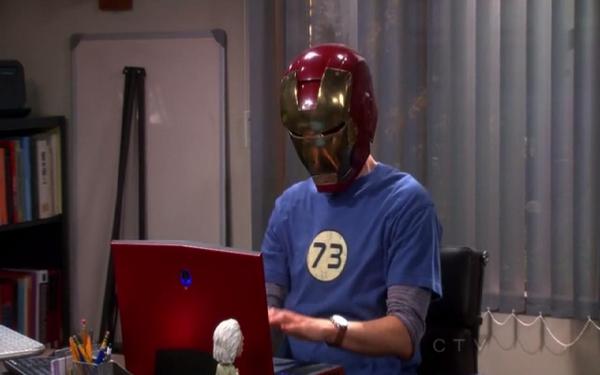 Uh yes, they'll design a flag for that too!
Was There A Restraining Order?
Well, he is clearly here to know more about Sheldon's thoughts on String Theory. He might also slip some papers about dark matter from Leonard and Sheldon's apartment.
Don't worry, Iron Man is not concerned about the space or universe. He just needs a new theme for his new iron armour. And yes, saving the world and maintaining peace from whatever it is that might come out of the dark matter or black hole.
If by this time Sheldon Cooper doesn't get a restraining order, giving the benefit of the doubt that Iron Man lacks emotions so getting annoyed might not be a great possibility— Cooper will at least end up in the eternal DC vs Marvel debate as Iron Man is a proud defender of the MCU family.
We'd surely want to see how that conversation goes! Given Sheldon's curiosity about Hulk and the effects of gamma radiations, not sure Stark is going to lose this one!
We all know how it's gonna end!
While it's Monday night and time for Chinese food, we're pretty sure Stark will ask for a leave. Or maybe sneak out with Penny for some cheesy burgers.
While Leonard is confused as to where Penny went, Sheldon is clueless about how to fix the wifi. Maybe he should try 'I am Iron Man,' as the password.
Robert Downey Jr Isn't Sure If Tony Stark Achieved The Peace He Wanted
Captain Carter's What If Episode Brings Robert Downey Jr Back To The MCU
90's Fashion Makes An Insta Comeback With Rachel Green And Cher Horowitz's #OOTD Outfits
Inside Marvel's Long-Term Plan To Replace Brie Larson's Captain Marvel
Ryan Reynolds' Deadpool Vs The X-Men Set For MCU Phase 5
Sounds Like Chris Hemsworth Still Has A Lot Of Drunk Thor Scenes Left
Marvel Invites Charlie Cox's Daredevil To Save Tom Holland's MCU Future
Brie Larson Led Phase 4 Proves That Marvel Had Planned Inclusivity Long Ago
Namor's Entry Into MCU Sets Up An Epic Avengers Vs X-Men Crossover