The Indian economy may be facing its biggest crisis yet. Its foundations, however, remain robust. Despite short-term setbacks, India's sterling performance over the last decade and recently introduced policy reforms should have a synergistic effect on growth in 2021-22.
For India's "fastest-growing economy", the coronavirus crisis could not have come at a worse time. India's GDP growth has hit rock bottom after falling continuously for the better part of the last two years. The final blow was an extended lockdown that exacerbated the woes of the country's poor and shrunk the economy by nearly 24%.
The cracks in the banking system are beginning to show, with experts warning that Non-Performing Asset (NPA) volumes could hit record highs by the fourth quarter of the current fiscal year. A shortfall in revenues across the board has meant that the fiscal deficit has risen to its highest level in five years. Unfortunately, the RBI's successive rate cuts have done nothing to revive consumer demand – the engine that drives this country's economic growth – and the long term outlook remains uncertain. However, if our strong track record of the past is anything to go by, it is too early to write India off as a has-been.
Watch: Why is India's economic growth slowing?
RBI's successive rate cuts have done nothing to revive consumer demand and the long term outlook remains uncertain.
India's track record of economic recovery
Unlike in the past, India faces neither a balance of payments crisis nor an oil crisis today. If anything, it is taking full advantage of the historically low oil prices to stock up its reserves. This should help the country weather any sudden disruptions in global oil supplies due to geopolitical tensions in the Strait of Hormuz. The US has emerged as a major sourcing destination for Indian state-owned oil companies, complementing traditional suppliers like Iraq, Saudi Arabia and the UAE. Contracts have also been firmed up with Russian state-owned oil producers which will add another layer of redundancy to India's fuel supply chain.
Watch: India's customers pay high fuel prices despite global oil prices hitting an all-time low
With strong economic fundamentals, the government is also quite confident about India's balance of payments position with exports recovering steadily to reach near parity with pre-COVID levels. Piyush Goyal, India's commerce minister, emphasized that "our balance of payments this year is going to be very, very strong" as imports were "still at about 70-71 per cent of July 2019". In fact, India had a trade surplus this fiscal for the first time in 18 years with exports dropping to less than 50% of last year. While coincidental, this situation gives the Indian government an opportunity to push for import substitution.
The government is confident about India's balance of payments position with exports recovering steadily to reach near parity with pre-COVID levels.
India is far less dependent on agriculture today than it was in 1965-66 when a long spell of drought led to an unprecedented crisis of survival for the country. At the height of the pandemic, India had a net surplus of food grains estimated by experts at three times the minimum required volumes to feed its population of more than 1.3 billion. Farm output is expected to comfortably exceed the target of 298.3 million tonne in 2020-21, according to the officials of the Ministry of Agriculture and Farmers' Welfare.
This goes to show that India has learnt its lessons from past recessions. However, the current set of challenges is quite unlike anything the country has ever faced. It will require a long-term calibrated approach from the RBI and the NITI Aayog to stimulate demand in the economy.
India's economic fundamentals are strong
For global investors, a country's economic fundamentals provide vital clues into the potential for returns over the long term. India's remain on a firm footing despite the challenges that it has encountered over the last couple of years. According to KV Kamath, former chief of the New Development Bank, India could well achieve double digit growth between 2020-21 and 2021-22, depending on how the economy performs in the second quarter. A number of policy measures have already been taken to improve the ease of doing business in India. For one, the Indian government has been steadily increasing investment in infrastructure and logistics with up to $1.5 trillion budgeted for various road and rail projects by 2025.
This will reduce the overall cost of logistics and transportation for businesses across industries. The GST regime has simplified indirect taxation which is another key confidence-building measure introduced with an eye on foreign investment. India is currently sitting atop the world's fifth-largest foreign exchange reserves of over $545 billion which will help offset the rising public debt if the need arises.
To woo international manufacturers leaving China, India has also embarked on ambitious land and labor reforms that will make it easier for companies investing in India to set up shop here.
Governance and ease of doing business
Geopolitical tensions have literally redrawn the manufacturing map with most global companies looking for alternatives to an increasingly combative China. India is positioning itself as a natural contender on the strength of its large domestic market and English speaking workforce. To this end, it has steadily improved its ranking on the World Bank's Ease of Doing Business Index in the last few years even as it aggressively pitches for greater foreign investment at various multilateral forums. A "single window clearance system" – which has been in the pipeline for years – is finally taking shape to help investors' secure regulatory approvals within a standard timeframe. The Insolvency and Bankruptcy Code is another key reform that has served to boost investor sentiment.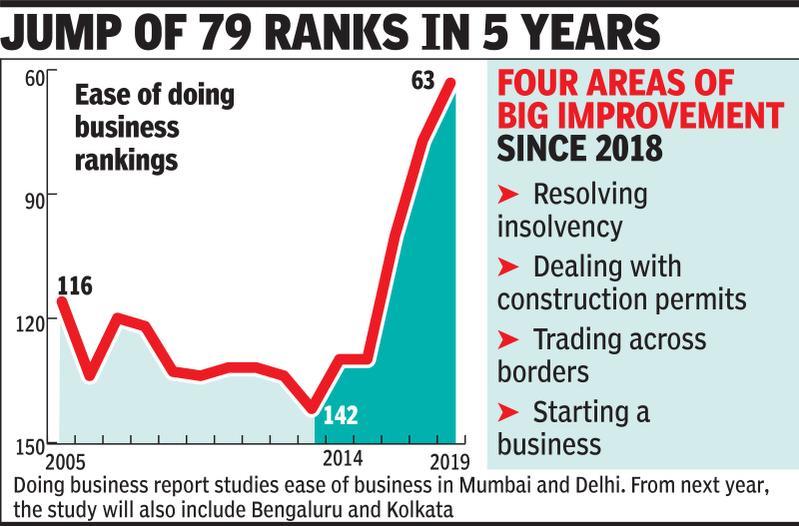 The net effect of these measures will be a drastic reduction in the cost of setting up local operations for global investors. In case they choose to exit, it will also be much easier for them to recoup their money. India is becoming more investor-friendly than ever before. It is no coincidence that it has managed to attract over $20 billion in investment for global companies at a time when the pandemic was at its peak.
India is becoming more investor-friendly than ever before. It is no coincidence that it has managed to attract over $20 billion in foreign investment amid a pandemic.
A large domestic market and a skilled English speaking population apart, investing in India can give global businesses the ability to thrive in a strategically located, stable ecosystem governed by strong economic fundamentals and democratic values.